Why I Recommend the Headband Wig
Today I will talk about Headband Wig.
What is a Headband wig?
Benefits of Headband Wig?
Styles of Headband Wig?
How to Slay a Headband Wig?
1. What is a Headband wig
To be simple, a headband wig is a wig that is made with a piece of headband material around its edge, through the headband rather than clips, you can slid the wig free to place right. Headband wigs can come in as many styles as regular wigs do, the number of insert combs, headband styles are the key factors that result in the differences.
Distinguished with lace part wig, which is also hot popular by users, headband wigs use elastic band instead of lace part in the front to hold your head, it's a combination of wig and headband. This delicate design not only brings efficiency of install, but also adds stylish elements to the common human hair wig. Best for those who want to make a little change of their hairdos without damaging the natural hair.
The elastic black band is soft and flexible that allows the cap fit head properly. And Velcro tapes at the two end of strap works together with 2 big combs (front and back) to avoid falling off. Attached headscarves could be changeable free and used to put rightly over the black band.
2. Benefits of Headband Wig
A. Real beginner-friendly.
Very fast to wear as well as remove. With a lace wig, you have to suffer from a complicated process for installation which may include bleaching, plucking, glue down or sew in. But for headband wig, the only action is wear and go, super easy that even a child can master, you don't even need to find tutorial via Youtube or Instagram. If you are short of time or lazy for handling with lace wigs, this is just the wig you need. 
B.Secure to wear.
With an adjustable strap headband wig is more secure, not easy to fall off. There is no need of glue of sew in, so it brings no hurt on your hair, gives your natural hair 360°protection, with headband on, you can style your hair free as you like, most suitable for half up half down style.
C.Swift Change of Styles.
The basic band is a piece of breathable&thin black cloth, you just need to add separate headscarf around the black one, when ordering from Rosspretty, you will get several headscarf for free, and you can change the headscarf as you wish. Different headbands could be used to suit diverse occasions , match various make up and your outfits to show off your varied elegance. With the band around head circumstance, it allows ponytail for gym and yoga occasions, especially in the burnt sun.
D.No Extra Money Spent.
Headband wig can be the most affordable wig ever among 100% human hair wigs, especially less cost than equivalent lace frontal wig. As headband wig is completely machine-made, while the latter one is labor-cost, the price of headband wig is bargain. Moreover, you don't need to ask a hairstylist for help, money for this can also be saved.Styles of Headband Wig
3.Styles of Headband Wig
Imagine that a cap wig is a wig with different caps, such as baseball cap, belly cap, headband wig is with headband or scarf around the front of the wig, help to keep wig from showing around the edges and help to keep more securely in place on the head.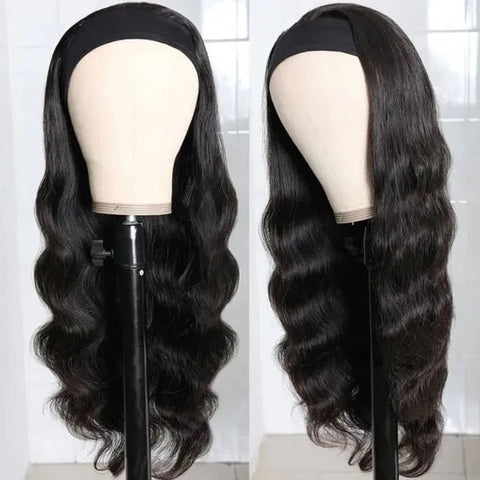 On the one hand, you can choose different styles of hair texture, such as kinky straight, Jerry curly, hot fashion body wave, and pure straight ones.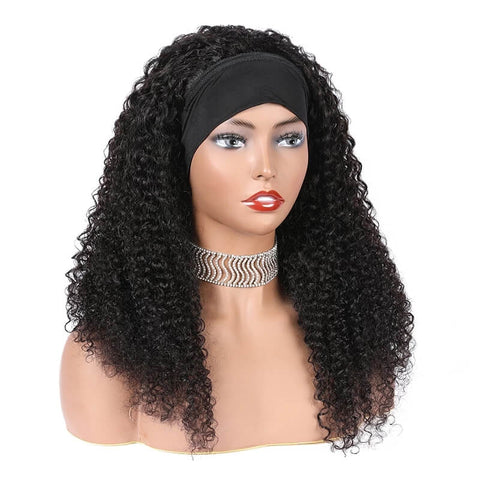 4. How to Slay a Headband Wig
Features of Ross Pretty headband wig
Material Hair: 100% Premium human virgin hair
Texture: body wave/straight/curly/water wave human hair wig
Hair Color: nature black
Cap Size: 21.5 inches, Velcro in the back, easy to adjust the cap, suitable for any head size
Wigs Length: 12 14 16 18 20 22 24 26 28 30 inches for you to choose
Items per Package:1 deep wave headband wig+ 3 free head wrap gift
WARM TIPS:
Give the wig a shake after taking out of the package and hang it on for some time the curls become tight and natural, it will be more beautiful than before.
All human hair wigs are happened to minimum shedding and tangling which is normal, please take care of washing and maintenance. If you are looking for a wig that is time-saving, then headband wig is it. Ross Pretty hair the best headband wigs with the most affordable price. No matter what your hair condition is, it fit your head well, also add volume to your own hair. The gift headscarf are given you to match different outfits. You can also choose the length according to your need.
If you are eager for a headband wig high quality in bargain price and have no idea about where to buy best headband wigs, then reassure yourself to pick one from Ross Pretty Hair , we offer free&fast shipping with no tax, 100% virgin hair never do harm to your health. You may have missed the lace part wig, don't  miss the headband wig anymore.