What is a short bob wig?
Bob wigs cut from above the chin or under the shoulders. This bob wig can save those who have thin hair or those who are worried about long hair. In usual the length for the bob wig is 8 inches to 14 inches.
Why to choose a bob wig?
The reason I like this wig is that the length of the hair can minimize the cost and maintenance, so you have an amazing hairstyle. In addition, you can also attach this new style with some added styles. Try this cute, small, inverted look to get a natural effect. One of the best advantages about Bob wig is that you can match it with different clothes on different occasions. Bob wigs are available in various colors and lengths, so you will definitely get a wig that fits your needs and makes you look better. Here are some best wigs for you to choose.
1. Curly bob wig
If you like short hair with the curly wave, the curly Bob wig is an ideal wig for you. The beauty brought by short curly hair is worth your effort in knitting. This hairstyle is both stylish and fashionable. Choosing short-curl Bob weave can never go wrong. They are easy to wear and easier to manage than other wigs. With the development of all work and party themes, this hairstyle will be your good choice within a long time.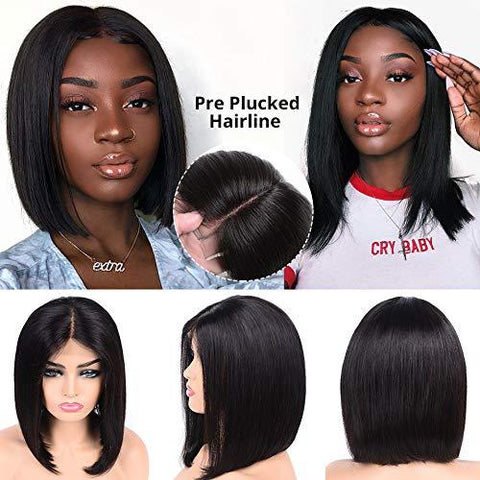 2. Straight lace front bob wig
Straight Bob wig is tidy and elegant, with a high degree of curvature, perfect for round faces. Those functions include the front of the lace, 100% hand-laced lace, light and comfortable. Straight Bob wig can be used flexibly for various hair types, and the seamless hairline has been correctly mixed, imitating how the hair grows out of the scurf, making it look like real hair. It can also use a variety of hairstyles, making it difficult to tell that it is a wig. The straight wig is heat resistant, which means it will not be damaged by heated styling products. You can use a flat iron or a curling iron to set the style. You can set it to a higher temperature without melting or affecting its quality.
3. Blonde Short Hair Bob Wig
Golden wigs always tend to attract attention, if you plan to attend a party and want to draw some attention, this short hair is the best choice. Most women dream of having beautiful blonde hair in their head. Its design size is 8-14 inches. You do not need to bleach again. Blonde short hair wigs are heat-resistant, so you can use flat irons for their styling, and it is easy for you to dye the color for the blonde wig.